Certification
Quality management ISO 9001:2015 - DEKRA certified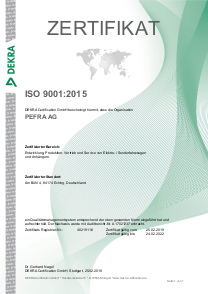 The PEFRA AG was certified by the DEKRA according to DIN ISO 9001:2015. This certification proves that the PEFRA has an eye on quality orientation in all their business processes, especially in construction, production and distribution of electric as well as special vehicles and trailers.
The DIN ISO 9001: 2008 certification is an internationally recognized standard and is accompanied by a strict quality control, which is reviewed at regular intervals in an audit. In this audit the company's organization is examined on the basis of objective standards.
The PEFRA Group has deliberately decided for this certification because we value customer satisfaction. Customer satisfaction and trust of our customers in our products, processes and standards are the cornerstones of successful cooperation.
For the certification also includes an efficiency review of daily recurring tasks. For our customers, this means in particular:
Processes are optimized through the use of highly specialized IT systems in terms of efficiency. Possible sources of error are minimized.
You benefit from a speedy and competent handling of requests.
The certification ensures that individual customer requirements are incorporated into a technically customized product.