Rental vehicles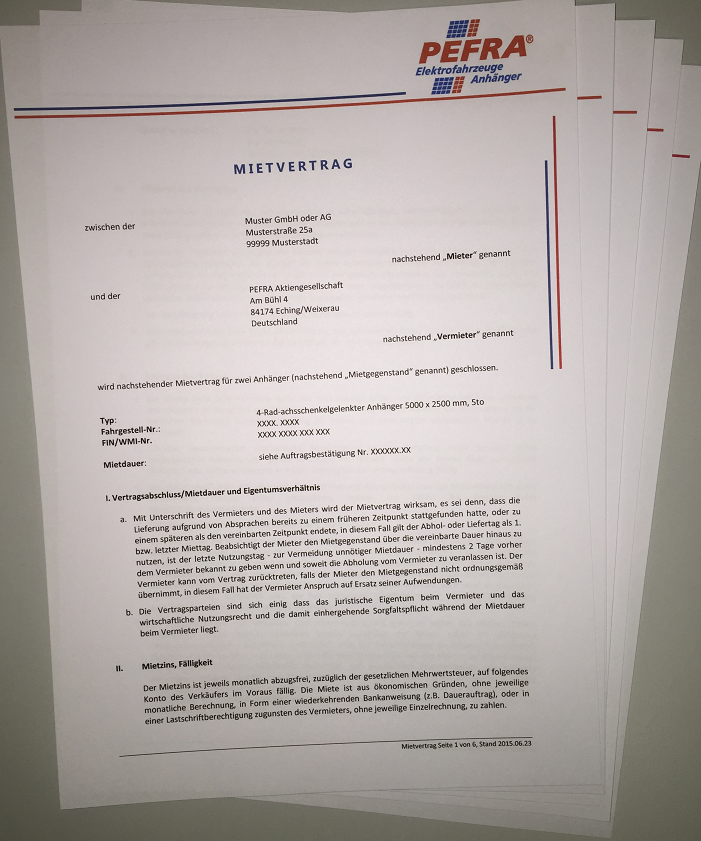 The PEFRA Group offers its customers for short or long-term period to extend their fleet for full flexibility. Rent, lease, virtually all variants are possible and are part of our portfolio.
In short-term rentals, the rental period can be a few days to exceed one month rental.
In addition, we have special offers for long term rent, where you continue the lease after the term of one month. Long term rental is payable in monthly pay periods. The acquisition of service and comprehensive insurance protection may be the responsibility of the tenant, or be regulated in the lease otherwise.
The advantages are obvious, when it comes, for example, to bridge short-term bottlenecks or failures of vehicles or other capacities.
Good alternative to buying
No assumption of a residual value
Clear overview of the ongoing monthly costs
Cost can be calculated immediately as operating expenses
No loan costs
No provision of personnel for repairs as provided in the lease agreement
volume regulations when renting multiple vehicles
In an emergency, we are here for you
Check-out at the handover check-in at return
Navigating the vehicle on the spot, if necessary
Accessories can also be rented
Electric tow tractors, platform trucks, trailers, house or street legal, our rental fleet is available at short notice, in all tonnage classes available. Our vehicles are always serviced and are technically always ready and operating safely.
Our offer for a machinery breakdown insurance completes the entire rental and leasing spectrum.
Hire or leasing have often also a tax positive effect
Our sales team and our technical service will advise you on our rental and leasing services always competently and fair.